A number of popular traders from the Southport area are taking centre stage at this year's Southport Food and Drink Festival 2022. 
The event is taking place at Victoria Park in Southport this Saturday and Sunday (4th and 5th June) during The Queen's Platinum Jubilee weekend. 
The Festival – with free admission – was postponed on Friday due to heavy overnight rain, with thousands of visitors expected on the Saturday and the Sunday. 
Local traders that people will recognise includes Pasta 51 Express, which has recently opened its second venture inside Southport Market. 
The business is owned by Attili Sergi, who also owns the Trattoria 51 restaurants on the Promenade in Southport and in Liverpool City Centre. 
He said: "The reaction since we opened Pasta 51 Express at Southport Market has been really good! The response has been fantastic. 
"We have seen lots of people eat their meal from us and then return to say 'thank you' – that is the best feedback. 
"Southport Food and Drink Festival looks great and the weather is looking good for the weekend.
"We will have Pasta Bakes, Pasta Salads, Arancini, Panzarotti Pugliesi and Rustici Leccesi, if I find extra time we may do a few more additions for Saturday and Sunday.
"We are looking forward to it!" 
Southport's Peter Croome will be at the event with his ice cream van once again.
He said: "What a fabulous event this is for Southport, and what's fabulous job the Sefton Tourism team does.
"The Southport Food and Drink Festival is a great event for the whole town.
"I am looking forward to another busy day today."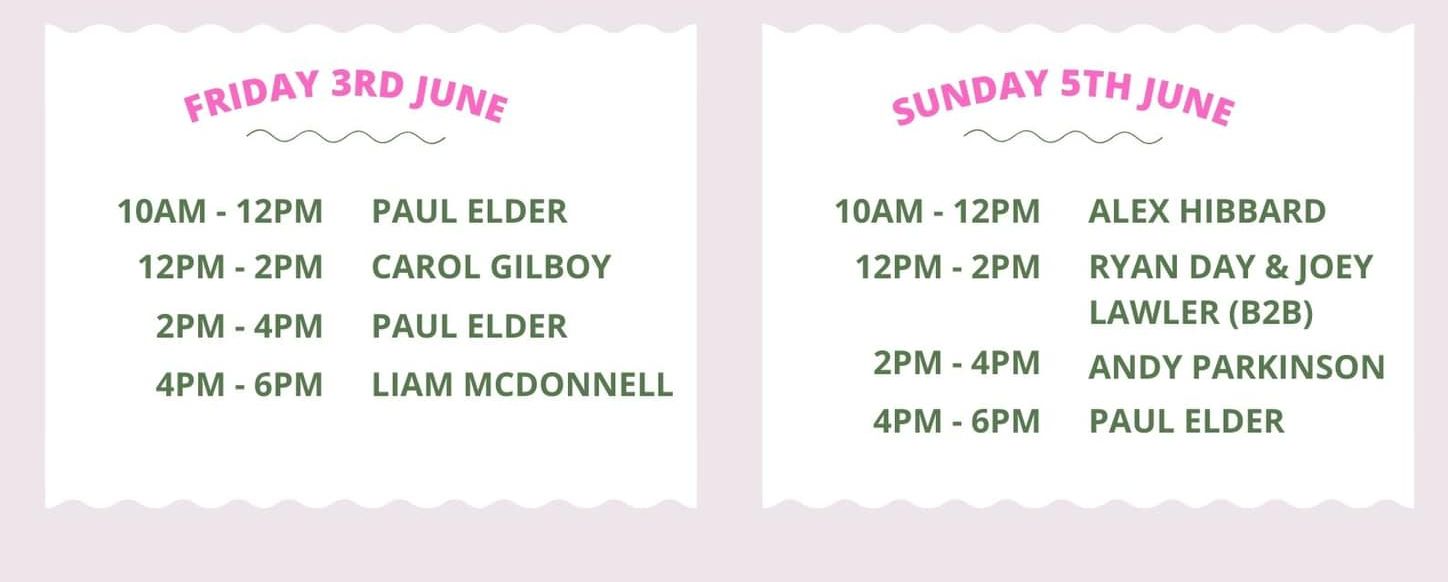 Flair N Funk will be there once again, bringing the best tunes and some superb cocktails courtesy of owners Paul and Chantelle Drewery.
They said: "These are our set times for our DJs this bank holiday!
"We have music daily from 10am-6pm at our stand. Come and grab a cocktail and enjoy some House & Disco at Southport Food & Drink Festival.
"We are excited to be back over the Queen's Jubilee bank holiday weekend. Join us at our usual stand, our lovely horse box 'Bar Florence'.
"We have DJs on all day everyday and delicious Cocktails, Skinny Lager & Shots!"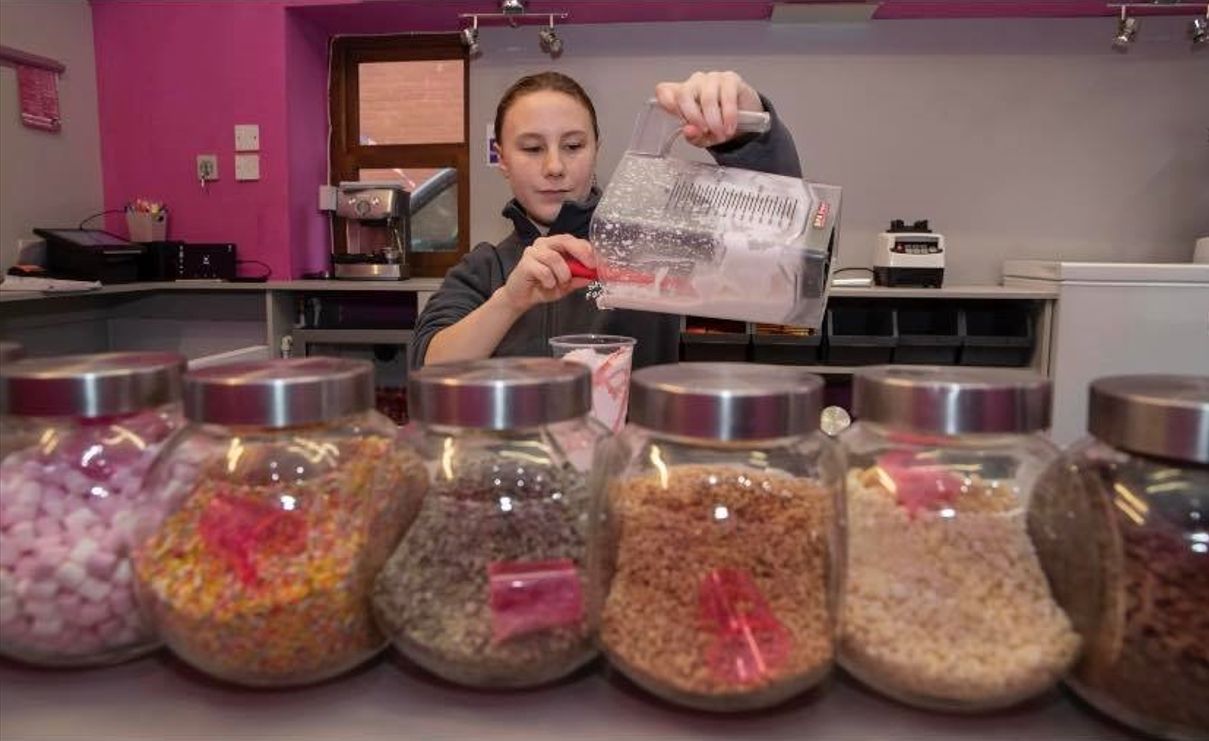 Scarlet Whitfield at the Shake Factory in Southport
Also at Southport Food and Drink Festival will be The Shake Factory, a family-run Southport business which is celebrating its first anniversary since opening on Hoghton Street in Southport town centre in June last year. 
The Shake Factory will be offering milkshakes, pancakes and cookie dough.
They are also doing frozen yogurt – but for dogs!
The Shake Factory recently launched a range of vegan shakes to add to its already popular vegan smoothies. 
Owner Philip Whitfield and Scarlet Whitfield said they launched their range of vegan drinks after a growing number of requests from customers, wanting to provide something much needed – while still keeping prices reasonable.
Philip and Scarlet opened their first The Shake Factory in Prescot in Knowsley four years ago, and then targeted Southport for their second venture last summer, wanting to make it a destination venue for customers who live in or visit the popular seaside resort. 
Philip and Scarlet said: "We have launched a range of vegan shakes to add to our vegan smoothies. 
"The shakes are available on our delivery menu as well as in store. 
"We believe that we are the only high quality dessert specialists offering vegan shake options, so thought we should get that out there to let people know.
"The shakes are made with oat milk and flavour options range include; vegan chocolate, fruit, vegan sweets and flavoured syrups.
"We thought that no-one else locally was offering vegan shakes. Our customers know what we offer, our followers on Instagram know, but we just wanted to let other people know what we offer too.
"Lots of people were asking for them, people who were vegan, people who were lactose intolerant. There was a real demand that wasn't being catered for."
Hungry visitors to this year's Southport Food and Drink Festival will also be able to get some Satisfaction – thanks to a classy new street food outlet called The Rollin Stove. 
The food trailer was opened in 2021 by well-known local restaurateur Sandy McKenzie, the former owner of The Latin Lounge in Southport, and her business partner Kerry Toft. 
The Rollin Stove has already been enjoying rave reviews after operating in the grounds of Jewson's Builders at Meols Cop Bridge in High Park. 
They have also popped up at last year's Southport Disco Festival, and at the 17-day Southport Comedy Festival last October. 
The Rollin Stove produces freshly cooked food while sourcing the best local ingredients. 
The chips are hand-cut each day, while meat is provided by quality local butchers. 
Sandy McKenzie said: "When Kerry and I bought it, we decided to go down the route of serving fresh produce, using locally bought food. 
"We make our own burgers, we make our own fries, we make our food fresh every day. 
"Our fries and our loaded fries are going down very well indeed."
Other local businesses you can find at Southport Food and Drink Festival 2022 include: 
Cone Head
Korean Kitchen
Just Wings
Olwa Bakery
Elite Bars
Diego Mexican Bar
Having a Ball
Parker Brewery
Remedy
Bagel Deli (Ormskirk)
Hoghton Coffee
Peter Croome
The Ready Steady Chef
Southport Ice Cream & Rock
Birkdale Cheese
Jessica Bakes Well
Down and Oot
Pitamu
Allotment
Do you have a story for Stand Up For Southport? Please message Andrew Brown via Facebook here or email me at: mediaandrewbrown@gmail.com