A bit of colour has been added to Russell Road recreation ground in High Park in Southport with a wonderful mural created by Lisa Langan and the local community. 
The mural was designed from the contributions of local residents through mural workshops held throughout the year. The mural and workshops were funded by the Brighter Living Partnership led High Park Project and was painted on the side of a vacated changing rooms with permission of Sefton Council's Green Sefton team.
At the mural workshops Lisa took the designs created by residents and wove them together to make a design that everyone was involved in creating. 
People were invited to paint the mural at the High park Hodge Podge Festival in August and Lisa has now done the finishing touches and feedback has been very positive since it was completed.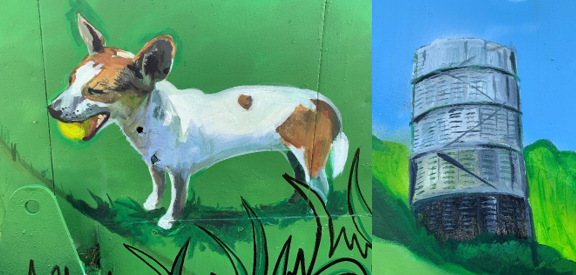 Martyn Robertson from Southport Athletic was at the site when the finishing touches were being made.
He  said "I've had lots of compliments about this and people have been very positive that it's a step towards improving the area."
The High Park Project is a National Lottery Funded project operating in High Park until March 2024 – If you would like to get involved or would like to share thoughts on how to work together in the High Park community you can find more information at www.facebook.com/HPTFTC

Or contact Joe McNulty on 0770 858 9017 via text/WhatsApp/Phone Call or email joe.mcnulty@brighterliving.org.uk.
Do you have a story for Stand Up For Southport? Please message Andrew Brown via Facebook here or email me at: mediaandrewbrown@gmail.com