The widow of a man who inspired a rugby club to travel more than twice the way around the world in his memory has thanked them for their incredible efforts. 
Anne Ellis said she was 'overwhelmed' to see Southport Rugby Football Club players and supporters run, cycle, swim and climb their way to completing over 80,000km during the July – more than double the circumference of the planet. 
'The Ellis Expedition' was named after Anne's husband, Club President Graham Ellis, who tragically died just the day before he was due to officially launch the challenge on July 1. 
Graham was among the driving forces behind the spectacular transformation of the club both on and off the pitch over the past few years. 
He was a passionate supporter of the NHS, whom he credited with twice saving his life in recent years. Father-of-three Graham, who was married to wife, Anne, for 30 years, and father of Hugh, Megan and Jack, had recently been told that he was not being put forward for the liver transplant he needed and was instead given just a few months left to live. 
One of his many legacies will be the £35,371 which has now been raised in his memory through the Ellis Expedition and which will now go to the Southport and Ormskirk Hospitals Charity.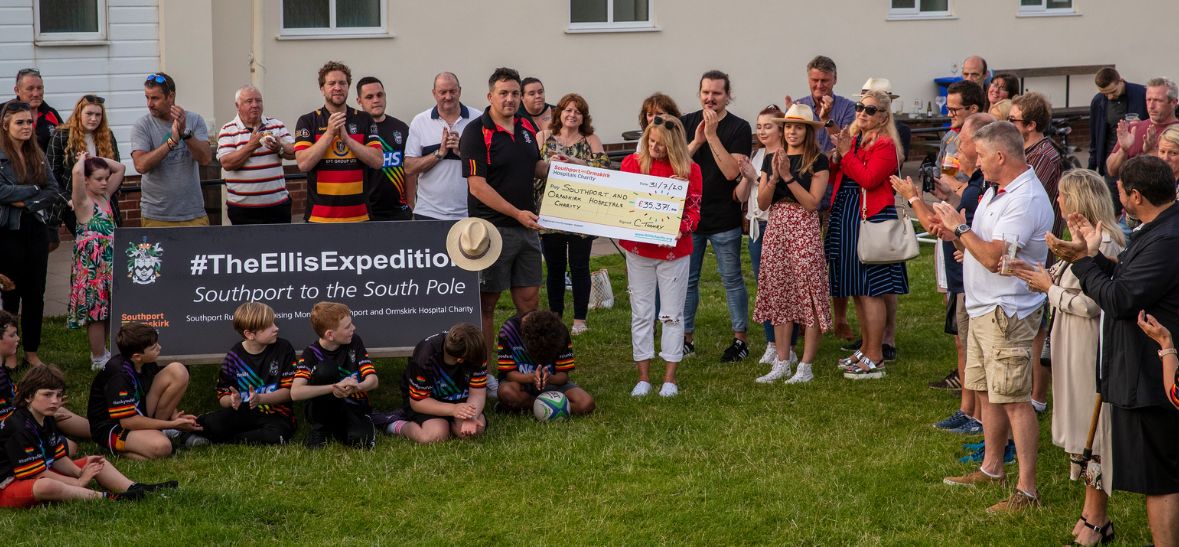 Anne Ellis and Col Toohey and supporters with cheque for over £35,371 raised via The Ellis Exhibition, at Southport Rugby Football Club. Photo by Angus Matheson of Wainwright & Matheson Photography
Anne Ellis said: "It is completely overwhelming. It has been absolutely brilliant, it has exceeded all our expectations. 
"I know Graham was held in very high regard at the club but it has been phenomenal to see so many people taking part for him. 
"Graham spoke to me just before he died and said 'they are doing this challenge as a club and they want to name it after me. I am really humbled'. 
"He was very moved by it all, and he would have been so, so thrilled. 
"Nobody thought it would raise this much."
Anne has been a Reception teacher at Birkdale Primary School for the past eight years. She was previously a teacher at St Philips Primary School, Farnborough Road Junior School and Kingswood College (which is now Scarisbrick hall School). Graham was a chartered surveyor.
He was always a very jovial figure at Waterloo Road, ready to greet every visitor with a huge smile, always very encouraging to players of all age groups. 
He gained most enjoyment from watching talented young players developing through the various age groups and into the first XV. 
Throughout July, thanks to an idea by Colin Toohey, players and supporters at the club were due to walk, cycle, run, swim and kayak a total of 16,000km between them – the equivalent distance of Southport to the South Pole – with a £16,000 target. 
Such was everyone's immense respect for Graham that they soon raised that figure to £25,000, and then smashed that too. 
Anne said: "It has been such a lovely challenge because it has involved the whole club. There were little tots doing challenges while someone in their 80s covered over 100 miles. It was just fantastic. 
"My family has been involved too. Our daughter Megan did the Three Peaks Challenge in Graham's memory and said it nearly killed her!
"Jack initially did two peaks, and then went back and completed the third one. 
"We have had family members in Australia and from all over taking part too. 
"The Ellis Expedition was so well supported by so many people. It was lovely to see so many people turn up for the guard of honour for Graham's funeral as well. 
"Graham battled on for four years. They were tough times, but he wanted me to carry on. We were glad to have all the children around him in his last weeks. We only just managed to get Megan back from China just in time before the travel restrictions came in."
The Challenge culminated in a final fundraising walk by members of the club which ended at the Southport Rugby Football Club Clubhouse. A giant cheque with the final amount was ceremoniously handed over while Anne Ellis and Col Toohey as they each said a few words in front of a large number of supporters. 
Club photographer Angus Matheson presented some large prints of photos he had taken of Graham over the years to take pride of pace in the clubhouse. 
Anne said: "Col Toohey said a few words on the pitch and then I said a few words as well. Graham would have been stoked by the support there. 
"I would love to see if the money can go towards something specific that is needed at Southport Hospital or Ormskirk Hospital, that Graham can be remembered for. I would like to see if they have some kind of wishlist. 
"Graham was a diabetic so I wonder whether there is something that could be funded along those lines."
Speaking a few weeks before his death, Graham said: "I am absolutely humbled by Col's idea for the challenge. 
"We were looking to do something as a big thank you to the NHS and to show how the club bonds together in adversity, and doing something within the community. 
"Then Steve Olive, the former president, phoned me and said 'I would like to put something to you'. He said 'we would like to do this 16,000km expedition and dedicate it in your name'. 
"I said I am absolutely honoured. It will be my swansong. 
"The focus will be to help the NHS. 
"The NHS has saved my life twice now, by seconds. 
"They have fought for me and fought for me, and their care for me has been fantastic.
"I cannot fault the doctors, the nurses, for their dedication, their humour, their skill. 
"I know there are a lot of people at Southport Rugby Football Club too who work for the NHS or have been helped by the NHS so this challenge to raise money for the Southport and Ormskirk Hospitals Charity means a lot to all of us."
Thank you @BBCNWT for your brilliant feature on our amazing adventure for @SONHStrust. ❤️?? https://t.co/IY0zM5c7CJ

— Southport Rugby Club (@SouthportRFC) August 12, 2020
James Cook ran the very successful social media campaign for The Ellis Expedition. 
He said: "I am genuinely overwhelmed by the engagement and enjoyment from everyone involved with The Ellis Expedition. Not just just with those at Southport Rugby Club, but also throughout the community and family and friends of the Ellis family from around the world."
The Ellis Expedition was the brainchild of player and former club captain Col Toohey. 
He said: "I actually can't believe it. On the fundraising, I was out on my last cycle of the expedition, heading to the club for the finish and the amount raised kept going up. It's incredible. "People have been so generous with both their time and their donations. Especially given the current challenges brought by Covid. 
"We are pleased that Southport and Ormskirk Hospital Charity will be able to use this money to make a difference.
"The event was done to honour Graham Ellis, and I would like to think he would be proud of how the rugby club and wider friends and family came together. 
"We had over 350 people take part over the month, ranging from under 5s doing 8km walks with their parents to the hospital, to 81 year olds doing 100 miles over the month and everything in between. 
"We had people swimming, rowing, kayaking, walking, hiking, running and cycling. 
"It has been superb and a great way for people to come together for a great cause. 
"I think there are a few sore bodies out there now, so a well-earned rest is in order. 
"I am incredibly proud of the club and all its supporters and privileged to be a part of it." 
Southport Rugby Football Club, which raised £26,000 through hosting the world's longest rugby match a few years ago, is every much more than a club – and new people are being encouraged to join. 
Col said: "Although the rugby season is paused currently, we are beginning to start training soon, adhering to the Government and RFU guidance, and we would welcome any new players to join us!" 
For more details about Southport Rugby Football Club please visit their website at: www.pitchero.com/clubs/southportrugbyunionfootballclub/
Do you have a story for Stand Up For Southport? Please message Andrew Brown via Facebook here or email me at: mediaandrewbrown@gmail.com