Southport has lots to look forward to. 
As we emerge cautiously from lockdown, get ready for an exciting few months ahead with some substantial changes heading our way. 
We were all sad to lose Debenhams and Beales department stores and their long-serving, loyal staff earlier this year. 
But while they fell victim to national issues involving their firms, millions of pounds are due to be spent in Southport, resulting in hundreds of new jobs, with a substantial regeneration drive taking place. 
Here are 15 of the things that can bring positivity to Southport – look out for more things to add to this list in the coming weeks and months, which we will reveal here on Stand Up For Southport. Let us know what you would add to this list! 
1 – Southport Town Deal 
Watch out for some big announcements with this very soon. 
A Southport Town Deal board will soon put together projects to secure up to £25million from the Government to drive regeneration of our town. The aim is to work with firms already investing heavily in Southport as well as attracting new investment. 
You can find out more with our exclusive Stand Up For Southport video with Sefton Council Executive Director Stephen Watson and Sefton Council Cabinet Member for Regeneration and Skills Cllr Marion Atkinson here: 
2 – Southport Pleasureland 
There are huge plans for this site. Southport Pleasureland will be expanded to an all-year-round attraction after owner Norman Wallis was granted a 50-year lease.
Mr Wallis, who inherited a then derelict and vandal-hit site in 13 years ago, has ambitious plans for the seafront theme park, which he believes can help Southport become the UK's biggest seaside attraction.
Sefton says the new leases will 'facilitate sizeable investment', resulting in the transformation of the seafront. It is expected to trigger a multi-million pound transformation of the site and create up to 1,000 jobs, providing a £25m boost to the local economy each year.
Read More: 7 ways Southport Pleasureland is preparing to reopen safely after Covid-19 lockdown
3 – Sainsbury's 
It has taken a while coming, but work finally looks set to begin on building this huge 60,000 square foot superstore at Meols Cop retail park in Southport, bringing with it 400 new jobs. 
Sainsbury's remains very secretive over its plans and has not yet revealed an opening date. 
But the firm has now asked Sefton Council to begin remedial work on Meols Cop Road, paving the way for builders to move in and begin work. 
Read More: Is Sainsburys coming? Supermarket orders highways work on Meols Cop Road in Southport
4 – Southport Market 
Southport Market reopened this week, with its five independent local businesses based there ready to welcome back shoppers. 
Exciting plans are currently being worked on to convert the landmark building into a new food, drink and events hub, on similar lines to Altrincham Market. 
The newly revamped centre should bring more footfall to the area and help local businesses in nearby King Street, Market Street and Eastbank Street. 
Read More: Southport Market back open for business as plans continue to reshape its future
5 – Splash World 
Sefton Council recently announced exciting new plans for the refurbishment and regeneration of Dunes Splash World in Southport.
Work has been taking place on a complete refurbishment of the popular indoor all-weather water park.
The Dunes Leisure Centre offer will remain fully operational and is unaffected by the works.
A Sefton Council spokesman said: "This is incredibly welcome news which will see Splash World benefit from updated facilities, and potentially the addition of some new facilities for people to enjoy for many years to come." 
6 – Southport Lifeboat Station 
Building work has now resumed on eye-catching plans Southport Lifeboat's spectacular structure on Marine Drive will be three times bigger than their existing lifeboat house. 
The building is expected to be the biggest lifeboat base in the North West and will cost £1.4million to build – a huge effort for an organisation which relies entirely on donations from generous members of the public.  
Southport Lifeboat is currently waiting on an updated programme from the contractors, but hope that the impressive building may be complete by Autumn.
Read More: New Southport Lifeboat Station work resumes as hope grows over grand opening
7 – Southport Pier 
Britain's second longest pier – and, we think the best – is preparing to fully reopen soon. 
Once the gates are unlocked, visitors can admits the £2.5million regeneration work that has taken place on the magnificent Victorian structure, including a revamped Pier Pavilion, and new cafes along the structure. 
8 – Stand Up For Southport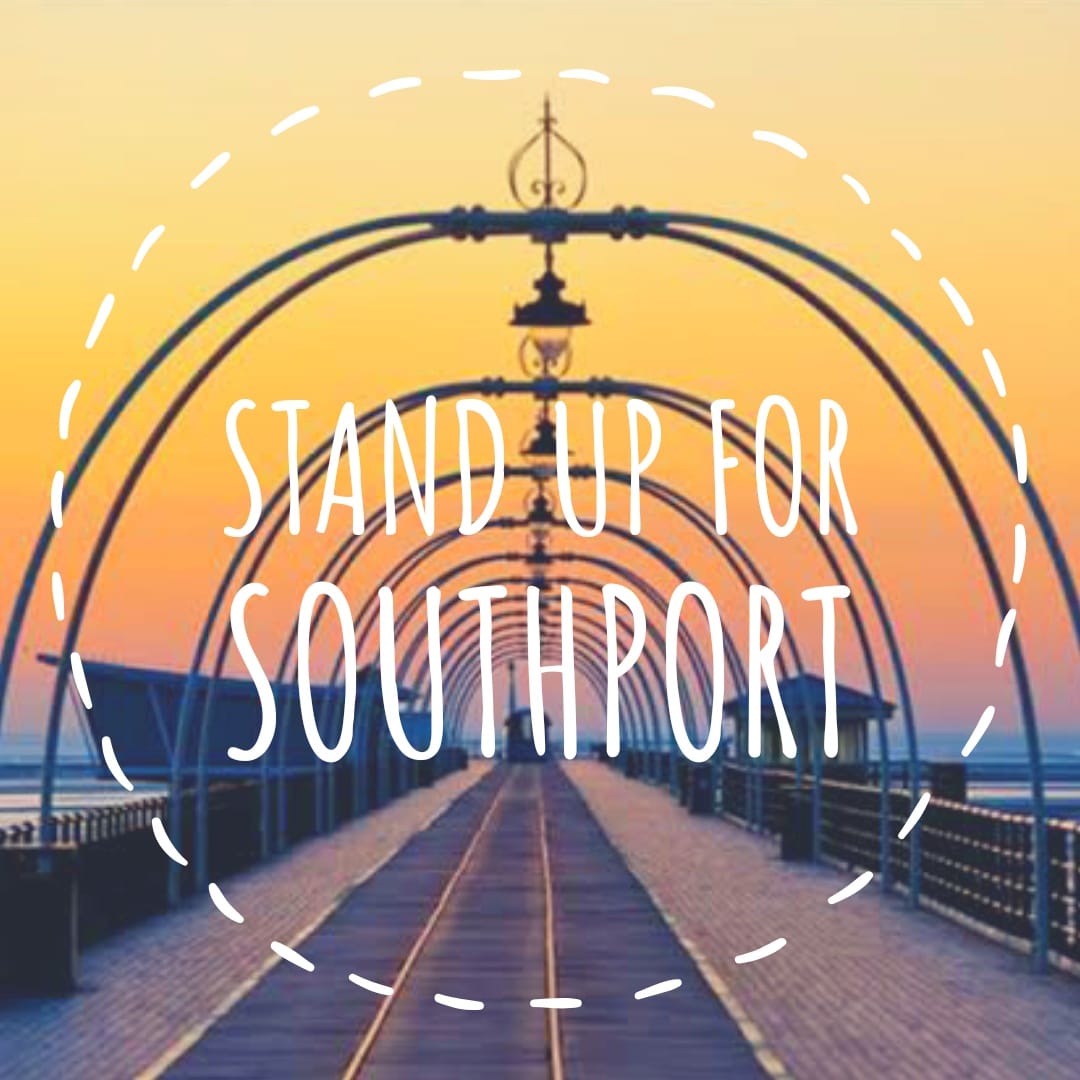 It's time to talk up our town! There are lots of great things about Southport and we have been humbled to welcome over 11,300 people into our Stand Up For Southport Facebook group alone, with thousands more on our SUFS Facebook page, Twitter, Instagram and LinkedIn. 
Even better is over 84,000 posts, comments and reactions within our group during the past 28 days, with people posting stunning pictures of Southport, news of some of the good things happening and great ideas on how to make our town ever better. 
Engaging with such a positive, grassroots community campaign to Stand Up for our town is positive news. 
Join our Stand Up For Southport Facebook group here. 
9 – Southport Townscape Heritage Project 

Would you like to see improvements made to some of our historic properties in the Lord Street area of Southport? You soon will. 
This heritage-led regeneration programme funded by the National Lottery Heritage (NLHF) will include property improvements, skills training and community activities.
Sefton Council and Southport BID were successful in gaining second round funding in order to allow the full delivery of the townscape heritage project for Southport town centre for the next five years. The funding will specifically be for:
Structural and external repair of historic buildings;

Reinstatement of authentic architectural features (eg traditional shopfronts, windows);

Works to bring vacant floor space in historic buildings back into use;

Training and skills development, for example: helping building contractors to understand the correct methods for the repair of historic buildings.
The project will focus on four clusters of older properties between Lord Street and the Promenade in order to complement the Heritage Lottery Funded restoration of Kings Gardens and the recent award of Coastal Community funds for Southport Pier.
Join the Southport Townscape Heritage Project Facebook page here. 
10 – Southport Comedy Festival 
Many of our resort's events this year have sadly had to be postponed, but we could still be ending this year with a huge smile! 
Southport Comedy Festival remains scheduled to take place this October, with some of the UK's top comedians on the bill. 
After the stress of this year – we could all do with a laugh… 
Find out more about Southport Comedy Festival here. 
11 – Shops are back open – and we're shopping local 
After three months in lockdown, it was great to see our shops reopen again this week. 
Restaurants, barbers, hairdressers, pubs, hotels, guests houses and more are hoping for some positive news and clearer guidance this coming week. 
Stand Up For Southport, Southport BID and others are urging people to Shop Local! The BID has also launched a Pay It Forward campaign, 
If we all work together and support local firms, we can come through this. 
Read More: Shoppers return in numbers as shops reopen in Southport
12 – Southport Theatre  
The Coronavirus pandemic led to the closure of theatres across the country, including here in Southport. 
In March, Sefton Council appointed IPW to appraise long-term investment and redevelopment options for Southport Theatre and Convention Centre (STCC).
IPW is now working with Sefton Council to undertake feasibility studies into the future redevelopment of the STCC.
IPW is a specialist sport, venues, entertainment and business events consultancy and has an international profile working on the development of multi-use venues.
Cllr Marion Atkinson, Sefton Council Cabinet Member for Regeneration and Skills, said:
"Southport Theatre and Convention Centre is an important part of Southport's visitor economy and will continue to be an asset in the future.
"With the economic potential that conferences and other events bring it is vital that we continue to support the venue, invest in its future and help unlock Southport's destination as a major conference destination."
13 – Look out for 4,000 new flowers 
Thousands of flowers will bring colour and vibrancy back to Southport. 
Southport Business Improvement District (Southport BID) is working with local firm J&A Japonicas to put smiles on people's faces as they return to shop in one of Britain's most floral towns.
Shoppers will be able to enjoy walking past over 4,000 flowers of all colours in tiered planters and barrier troughs along main thoroughfares. 
Southport BID CEO Rachel Fitzgerald said: "We are doing this to bring colour back into our town centre streets. We want to bring Southport back from the darkness of the Covid-19 lockdown and give it some light." 
Read More: Thousands of flowers in Southport bring colour back after Covid-19 lockdown
14 – Our events are coming back 
Southport has an unrivalled events programme! We are looking forward to seeing them all return next year. 2021 should be quite a year! 
Mark dates in your diary for next year's Southport Air Show, Southport Flower Show, Southport Food and Drink Festival, Southport Comedy Festival and more. 
15 We're all off to the South Pole  
Much loved President of Southport Rugby Football Club has revealed his dying wish – to launch a 16,000km virtual exhibition from Southport to the South Pole, to raise money for the Southport and Ormskirk Hospitals Charity as his way of saying thank you to our amazing NHS which has done such a magnificent job during the Coronavirus crisis.
Throughout July, club members will be running, walking and cycling huge distances to raise money for our local hospitals.
It is a sign of the tremendous community spirit we have here in Southport where in times of need we pull together to help others.
Read More: Southport Rugby Club icon Graham Ellis launches South Pole expedition to raise money for NHS
Do you have a story for Stand Up For Southport? Please message Andrew Brown via Facebook here or email me at: mediaandrewbrown@gmail.com