Southport is looking forward to a weekend of Festivals, outdoor markets and other big events this weekend!
Our resort will come alive with events to suit people of all ages and tastes. Here's what you can enjoy!
It's a great time to get out and enjoy some great days out, while also supporting local shops, restaurants, cafes, bars and other attractions in town:
1 – Southport Whisky Festival 
Whisky lovers are in for a treat when Southport Whisky Festival takes place this July!
The event takes place on Friday, 30th July and Saturday, 31st July.
Southport Whisky Festival will be held at various venues in Southport town centre, with some additional events also taking place online.
Southport Whisky Club member Peter Hunt said: "Did you know we are hosting a Whisky Festival right here in town? We've got 14 distilleries coming to host tastings in our local pubs and bars on Saturday 31st July from 1pm for a Whisky Treasure Trail!
"It promises to be a fantastic event and will bring some much needed income to our town after the last year or so of doom and gloom!
"Myself and Glenfarclas owner George Grant will be at The Guest House from 1pm on the day to give you all your Treasure Maps and a dram of Glenfarclas to send you on your way!
"At such time as you arrive at Remedy on Lord Street, further complimentary samples from the Distillery based there will await you.
"At each of the other venues indicated, you will be required to present your map and pay the bartender £4 to access the whisky treasure held within. We are not telling you who is where, that's for you to discover J
"I really hope to see some of you there to share a dram or two with!"
2 – Sausage and Cider Festival 
Sausage & Cider Fest arrives for the first time in Southport!
The UK's biggest food, drink and music festival will be taking over a fantastic site in Southport for a spectacular day of festival fun with live music, games, competitions and lots of sausage and cider to kick start the summer after a long lockdown! Enjoy: 
Craft ciders from all around the world
Delicious types of sausage
The best live bands in the UK
Outdoor Festival 
Tickets are available from: www.skiddle.com/e/35811970
3 – Save The Rave Festival 
Remember when rhythm was a dancer and groove was in the heart? When tie-dye and centre partings were acceptable? It was when the Ibiza scene exploded. The decade's biggest floor fillers include tracks from Fatboy Slim, Ultra Nate, Faithless, Baby D, Livin' Joy, The Chemical Brothers and tons more! 
The organisers aid: "Social distancing is over! Raving returns… we can't wait to bring our outdoor 90s festival to Southport! The interest and support for this event has been out of this world! This event will sell out in advance, we advise purchasing your tickets early to avoid disappointment."
4 – Courage and Devotion
An inspirational artist has spent five months and hundreds of hours creating an exact replica sculpture of a World War II Supermarine Spitfire, to pay tribute to the brave Polish pilots who flew from Britain during World War II.
Incredibly, Suhail Shaikh has built his artwork – which is one third of the size of a real Spitfire – almost entirely out of paper.
His 'moment in time' sculpture shows the exact moment, height and speed of the Spitfire being flown in 1942 by Polish pilot Sergeant Jerzy Stanislaw Zielinsky of the 308 Krakowski Squadron based at RAF Woodvale as it intercepted and shot down a Dornier German bomber off the coast of Southport.
The artwork is part of the Courage and Devotion exhibition which takes place at The Atkinson on Lord Street in Southport until Saturday, 12th March 2022. Admission is free.
5 – Southport Auto Centre Classic Car and Motorcycle Display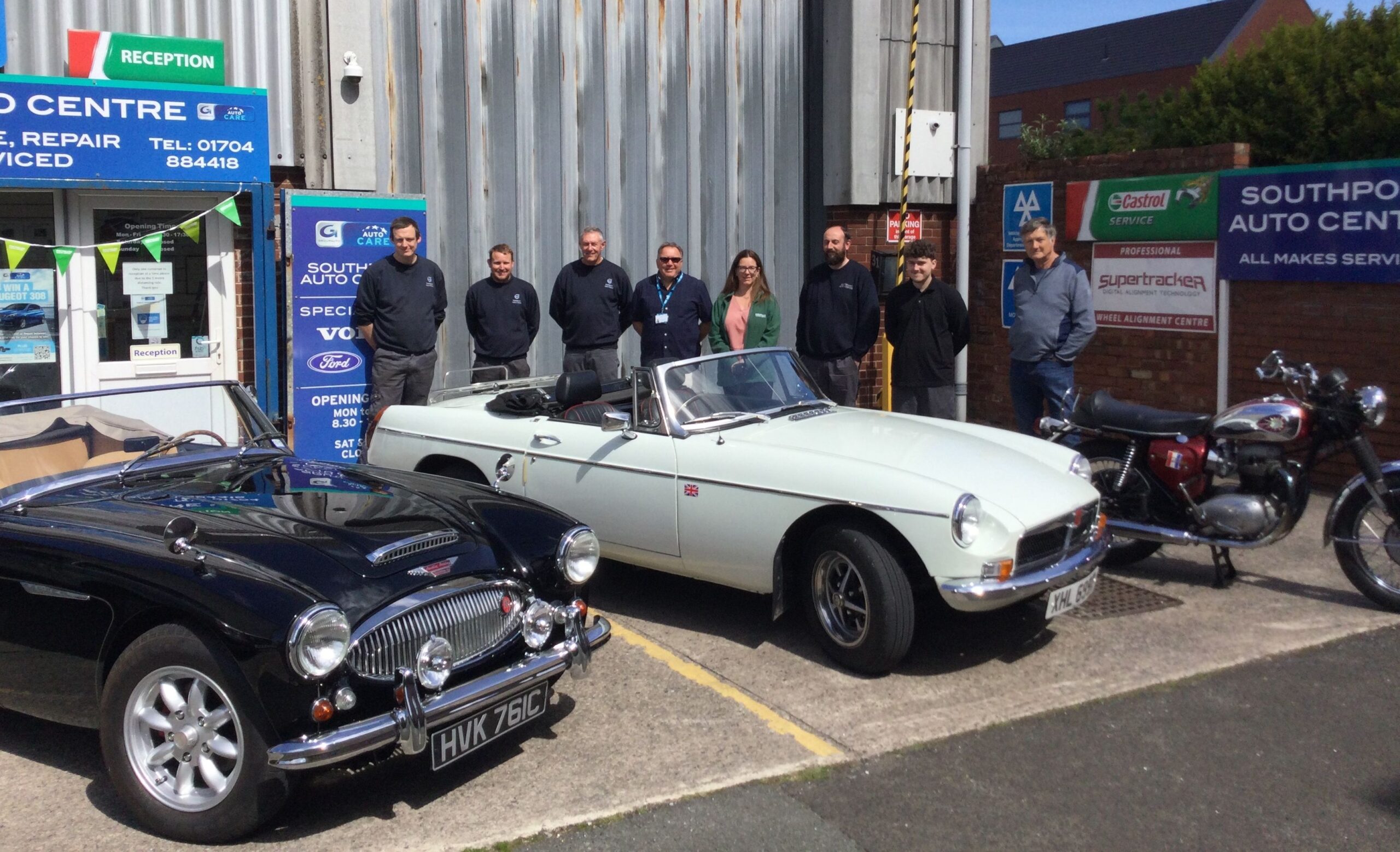 Southport Auto Centre is staging a classic car and motorcycle display to raise funds for Macmillan Cancer Support and the Southport Cancer Information and Support Centre
Southport Auto Centre is staging a classic car and motorcycle display to raise funds for Macmillan Cancer Support and the Southport Cancer Information and Support Centre.
The charity fundraiser will be held on Saturday, 31st July, from 10am – 4pm, at their centre on Wright Street, behind Southport College, which will be closed off to traffic.
Among the automobiles on show will be a three-wheeled Messerschmitt bubble car and the recently restored Schofields lemonade truck. There will also be a Smokey and the Bandit car (Pontiac Firebird Trans Am) and an E-Type Jaguar.
Also on display at several nearby car parks will be Harley Davidson's, stationary engines and other forms of transport, while Warrington Scooter Club are expected to attend on the day and show off their Vespas and Lambrettas.
Chris Regan, and all the staff at Southport Auto Centre who are organising the charity day, said: "Lots of charities have been impacted by a drop in donations due to the pandemic, and a lot of our customers have been supported by Macmillan and the Southport Centre and also volunteer for them, so we wanted to try and raise as much money as possible for the charity.
For further information about the event call 01704 884418.
6 – Red Rum mural and exhibition 
Acclaimed street artist Paul Curtis is celebrating scoring a Red Rum hat-trick after painting his third masterpiece of the world's most iconic racehorse in Southport.
It is a fitting tribute to Rummie, who earned legendary status with his own hat-trick, winning Grand Nationals at Aintree Racecourse in 1973, 1974 and 1977. He finished second in 1975 and 1976.
Paul's floor-to-ceiling Red Rum mural now takes pride of place in a first floor art gallery at The Atkinson, on Lord Street in Southport at an impressive 4m 20cm high and 5m wide.
It is part of a fascinating new Red Rum exhibition which will take place at The Atkinson until Saturday, 2nd October 2021. Admission is free.
7 – Southport Makers Market 
The third Southport Makers Market takes place this weekend!
The popular event, which takes place on the first Sunday of every month, will be held on Market Street in Southport town centre between 11am and 4pm this Sunday (1st August).
This event is the first one to take place next to the new look Southport Market since its grand opening last week following its £1.4million transformation into a new food, drink and events hub.
A Southport Makers Market spokesperson said: "The Makers Market is back this Sunday with an abundance of all your favourite makers, bakers and creators!
"Save the date – Sunday 1st August!
"Stock up on all your Makers Market must haves in Southport this Sunday!
"We have an eclectic mix of the North's finest makers, bakers and creators lined up and ready to showcase their wares in Southport!"
8 New Southport Market is now open 
Our new Southport Market is now open following its £1.4million transformation!
Southport's newest landmark opened its doors last week, and has been busy ever since.
It's situated right next to where Southport Makers Market is held, so a perfect place to call in for some lunch or a drink while you're out shopping.
Visitors can enjoy food from around the world with 10 food stalls and a large feature bar in the centre.
9 –  Lookalike Tribute Festival
Organisers say: "We are bringing together the UK's finest tribute bands for a huge all day festival in Victoria Park to celebrate a whole era of music and culture.
With the likes of The Beatles, Oasis, Queen, Abba, Amy Winehouse and more. 
Do you have a story for Stand Up For Southport? Please message Andrew Brown via Facebook here or email me at: mediaandrewbrown@gmail.com