Owners of Southport's newest estate agents are giving a percentage of their fees to Queenscourt Hospice as one of their ways of supporting the local community.
Curlett Jones Estates staff have also been taking part in Queenscourt's 'To The Moon And Back' initiative, with staff members aiming to complete 10,000 steps each day to support the charity.
It is part of their mission to be Southport's local community ethical estate agents, putting something back into their town.
Curlett Jones Estates opened up on Lord Street in August this year, with Queenscourt mascot Queenie Bee invited to be their VIP guest to cut the ribbon.
The firm says that Southport's housing market is 'booming' at the moment, fueled partly by the recent cut in Stamp Duty. Now is a great time to put a property on the market.
They say they have been inundated with new customers, thanks in part to their fixed fees which mean they will give the same attention to selling the smallest flat or house as the biggest mansion.
Curlett Jones Estates Sales Director Alan Jones said: "Queenscourt have got me knackered with all the steps we have been doing with their 'To The Moon And Back' fundraiser! I have got thighs like a shot putter after all that exercise.
"But it's been a very rewarding challenge to do. Queenscourt Hospice has been impacted so much by the Coronavirus pandemic.
"Their charity shops all had to close earlier this year, while their big fundraising events had to be cancelled. How do you recover from that as a charity? The money they get from the NHS is minimal.
"As a Southport business, supporting Queenscourt Hospice was the right thing to do.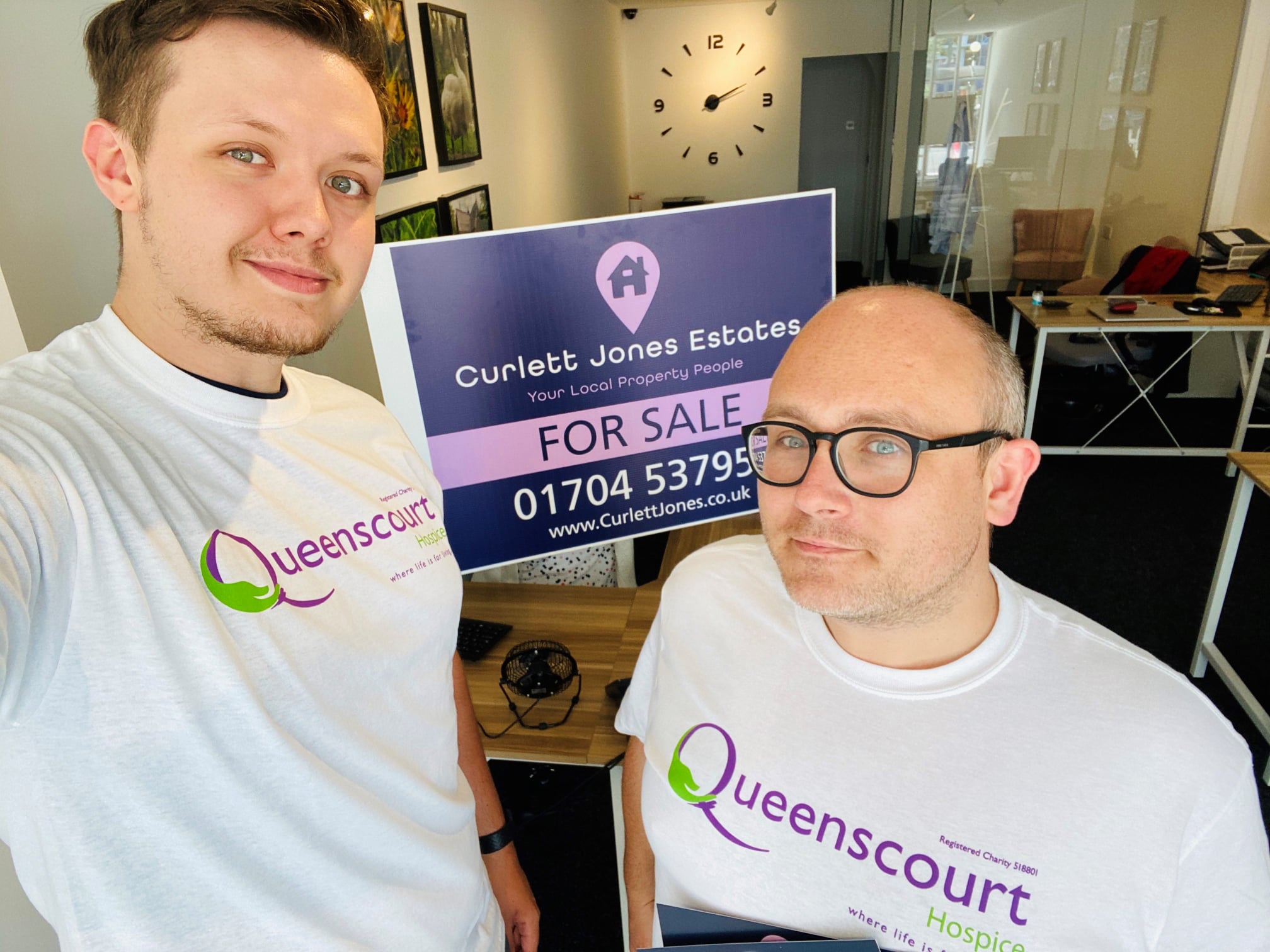 Curlett Jones Estates Sales Negotiator Antony Watkins (left) and Director Alan Jones (right) show their support for Queenscourt Hospice in Southport"We have a big 53-inch television in our window in Lord Street which we use to advertise all the properties we have for sale, but we also use it to promote Queenscourt Hospice events and their Lottery.
"Our customers have given us fantastic feedback on supporting the charity."
Since they opened in August, Curlett Jones Estates has been busy.
The firm offers fixed fees for customers to save them money.
For homes up to £100,000 there is a fee of £500 plus VAT; for homes between £100,001 to £350,000 the fee is £1,000 plus VAT; with a fee of £1,500 plus VAT for homes which cost £350,000 and above.
Properties are marketed through Rightmove, Zoopla, On the Market, Prime Location, the Curlett Jones Estates website and social media platforms, so house sellers are getting maximum exposure while also getting value for money.
Curlett Jones uses 'Homes Under The Hammer' style videos so viewers can get a real sense of what they are looking at, rather than just with static photos alone – a valuable tool in these times of Coronavirus.
The videos are included in the fixed fee, there are no 'hidden extras' that customers sometimes find with some businesses.
Importantly, Curlett Jones is a Covid secure business, with a number of measures in place to ensure that valuations, viewings and house sales can all go ahead safely for both sellers and buyers.
Alan Jones said: "As an estate agent we are still allowed to enter homes in the local area to complete both valuations and viewings under the new government guidelines supported by the National Association of Estate Agents.
"Our area is currently under Tier 3 measures and as a business we are working hard to ensure that we are fully Covid-19 secure and that we are following the current rules to keep our customers and our colleagues safe.
"Some of our clients are elderly so it is vital that we keep our customers, and our staff, completely safe.
"On viewings, we wear face masks and shoe coverings and use hand sanitisers. In our office, we have screens in front of the desks. You cannot be too careful.
"The house viewing videos are proving really useful, especially when some customers are nervous. Some people are more comfortable viewing a property via video, so they can have a look around, and it adds that bit of reality. We also do 360 degree views inside homes.
"These are temporary measures while the virus is here, but we are here to look after everyone.
"We would like to thank everyone for sticking together through these hard times.
"If you are considering selling your property, please don't hesitate to get in touch, we are with you every step of the way."
When Curlett Jones Estates opened, they were delighted to open on Southport's most iconic road – Lord Street.
Their office, at 653 Lord Street, is part of the bustling 'Northern Quarter', near Southport Fire & Community Station.
Alan Jones said: "We love being on Lord Street. The biggest decision was that we wanted to be where the community is. Where we are is thriving.
"We are in the only block on Lord Street where every unit is filled. We would love to see the rest of Lord Street becoming like that as well."
So what is Alan's advice to anyone thinking of selling their home?
"Choose wisely," he said. "Take a look around and see what estate agents in the area are charging, what they are offering, how hard they will work to sell your home.
"We are always on hand to speak to anyone looking for the best advice on how to move forward with the sale of their home."